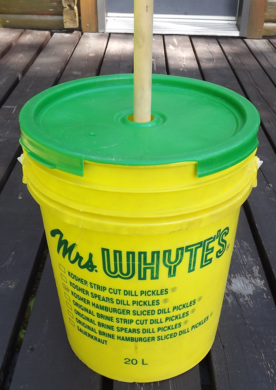 I used to be rather involved in Scouting and camping, so it was no surprise when my brother recently sent me a link to "41 Camping Hacks That Are Borderline Genius". (Here is my archive of the page in case it disappears ) The idea was to present a list of camping tips that, while often easy once you've looked at them, seem to elude many of us. The tips ranged from the small to large, from the really backwoods to mostly the car camping with a family crowd variety, from the simple to the involved. I read the list and found some tips interesting, some I'd done before, some I'd never thought of, and enough of which I thought were downright gratuitous in their inclusion in the list (in my mind — although this itself isn't listed — along the lines of "if you're going for more than an hour you'll want some food".)
This post is about one of the tips that I found useful.
The "hillbilly washing machine" was a gem for me: Someone else would no doubt list it as mundane, impractical, or on some level conceptually obvious. According to the proponent, this backwoods washing machine could be made for about $6. (Here is my archive of the page.) This person was a blogging mom telling about her participation in the Second Annual Flats and Handwashing Challenge (again here's my archive), trying to involve other parents in a challenge to use reusable cotton diapers for a week instead of expensive store-bought disposable diapers. One of the challenge's rules suggests that buying / making / securing a sufficient quantity of reusable diapers in order to last the week without having to wash them seemed to defeat the purpose of the challenge, and as such the challenge suggests the washing machine as one of the ways to make participation (both short and long term) practical.
By the way, here is their survey results page (and of course my archive) which I find interesting just from a simple numbers perspective, but also in how it seems to at least moderately promote the hillbilly washing machine as practical.
The concept is really simple: Take a five gallon bucket with a hole in the lid and use an old fashioned toilet plunger to simulate the function of a washing machine agitator. Add water, soap and clothes to be washed, and voilà , you have a functional washing machine.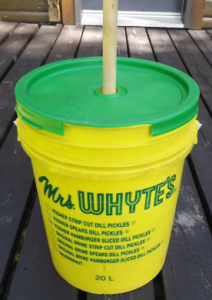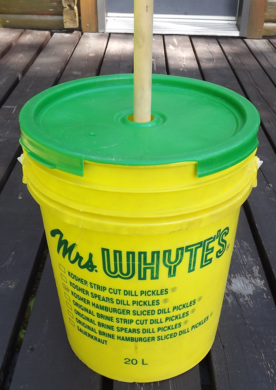 I found the idea intriguing: Having a three-season cottage that lacks the space and appropriate place for a washing machine (read it lacks a heated space during the winter to avoid freezing), this seemed to fit the bill, regardless of the time of year. Over the years I'd gotten mildly tired of always making sure that I'd be bringing clothes up from the city for the weekend, let alone enough. As such I had stocked my wardrobe and drawers there with old shirts, pants and the like that were perfectly serviceable but of course not exactly appropriate for showing up to work, let alone the likes of a wedding. I'd even gone so far as to buy a dedicated set of socks and underwear in sufficient quantity for the usual longest stint of two weeks that I would spend up there. I of course had backup plans that I could hand wash some small items in the sink or bathtub, drive to one of the towns about 45 minutes away and use a laundromat, or in an extreme emergency ask one of the neighbours if I may draw on their goodwill and use their washing machine, a plan I hope I never have to use. (This goodwill capital is reserved for "it's the middle of the winter, I don't have running water, and I desperately need a shower because such-and-such occurred; a sponge bath just won't do.")
So for the next couple of weeks, I kept my eye out for a five gallon bucket on the side of the road on garbage days, having a 16 litre square bucket in reserve just in case I was unsuccessful. Fortunately, my "nice" square bucket did not have to be sacrificed. The "new" bucket was in a previous life apparently used to hold kitty litter, based on the kitty litter dust on the bottom and its proximity to a cat box being thrown out. Its original function was to hold commercial hamburger pickles for a restaurant — and the brine smell permanently permeates the plastic, but, even for one who does not care for pickles, only to a pleasantly low level.
As a side note: I don't know about how the geometry would have worked out, but based on my experience, the size absolutely does matter — a full 20 to 23 litre bucket is absolutely necessary.
The first part of the job was a general cleaning of the bucket — removing a commercial label, a general washing, and the like.
The next part was to cut out four of the eight sections along the side of the lid that holds the lid to the bucket — I obviously would want the lid to hold to the bucket during usage, but as many people familiar with buckets intended to be water-tight and resealable after opening know, these lids can be a pain to secure properly onto the bucket, and then remove from the bucket. Removing four of the eight sections changed this dynamic from a bucket that was frustrating to open and close to a bucket that is easily opened and closed, while of course maintaining reasonable water tightness during operation.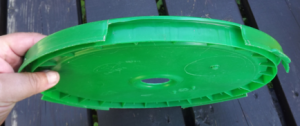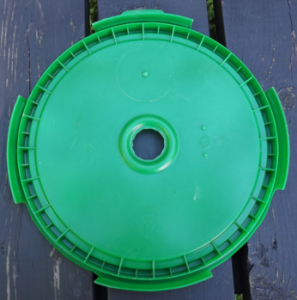 Then there was the hole to cut in the centre of the lid, large enough to freely allow the plunger to come up and down. It's about two inches in diameter and was easily cut with a pocket knife.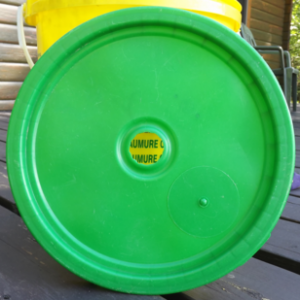 Then for the most expensive part of the machine: The plunger. Firstly, just finding an old-fashioned plunger that is full sized does not seem to be the easiest thing to do; they seem to be going the way of the dodo bird. Even the now-almost-old-fashioned plunger with a flexible extension that is meant to fit more snugly into the bottom of a toilet and increase performance and effective pressure seems to have competition with new-fangled, ergonomic and style conscious designs. However, I found one of the plungers with the flexible extensions for a whopping $1.97 plus applicable sales taxes. Following some advice I'd seen on some of the pages describing how to make this project, I trimmed off the extension while maintaining the structural integrity of the bottom part where it would have flexed, and I cut out three triangular holes in the cupped part so as to allow for less water resistance when using the plunger.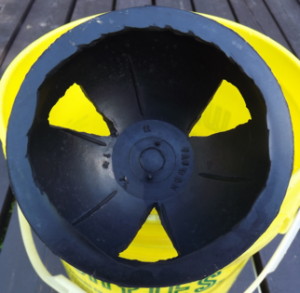 And voilà ! Backwoods washing machine for a paltry sum of about $2.27 or thereabouts, plus of course a (very) little bit of effort.
At this point, I tested it a couple of times; see below.
Hence, having used it a couple of times, the notion of getting a wringer of some sort seemed useful, and this was my "target item" a couple of weeks later when I went to a flea market. I found a mop bucket with a couple of wooden dowels integrated into it which act as a wringer when you put the mop between them and use foot to create pressure between the dowels, which squeezes out the water. $10 later, and I'd thought I'd really gotten a good deal; I later decided wasn't worth more than "It was nice to have an objective for the flea market, but in retrospect it wasn't worth the money at any price." I tried to use the wringer, but decided that it wasn't of much use. It not only added extra work to the process, but it wasn't particularly effective for wringing out clothing, at least given that I was still able to easily wring out more water with hand pressure afterwards. (sigh …)
Now that I've used the washing machine a few times, I've decided a few things about how to use it and get acceptable results:
1) it's only good for about one or two days' worth of clothing for one person, or equivalent; hence you'll want to divide up equal piles for more days' worth of clothing, or if you're washing for more than one person, or also want to wash up all the linen, towels and rags from yesterday evening's dinner party and associated cleanup. Interestingly, the original blogger suggested that she'd used it for only a day's worth of diapers at a time.
This was explicit in the original blog entry regarding the cotton baby diapers: In my experiences, it became obvious that the point (and the capacity) of the unit was tailored and ideally (and only) suited to washing one or two days' worth of diapers at a time to avoid having to store increasingly smelly items for wash day at the end of the week. The point of the challenge was, beyond using cloth diapers (especially for those who can't afford disposable diapers), to hand wash the diapers while avoiding the use of automatic washing machines (again in a context of affordability.) It also seemed to come across that perhaps it was intended more as a pre-wash system for such items so that you don't have to wash them at their dirtiest with your delicates and your picky teenager's latest styles in jeans, although in re-reading the original posts, it became clear that this obviously was a creation of my imagination, however true it might be.
2a) It seems ideally suited to small items such as socks, underwear, small hand towels, and wash cloths. The occasional polo shirt works too but they seem to be nearing the limit of what the unit can handle — hence the mention above about the importance of the sizing of the bucket being in the 20 to 23 litre area.
2b) It really isn't suited for bulky items. For instance, during my recent two weeks of holidays, I was glad that I'd had enough pants to not "need" to wash them; for fear that jeans were just to heavy and bulky and would require far too much effort, I never even tried to wash a pair, let alone several.
2c) It seems that washing large items and/or large quantities and/or both would require a larger bucket, and would require something more appropriate for agitation that a simple hand plunger. Some other such items seen on the internet suggest reducing the size of a 55 gallon drum and adapting an old bicycle to agitate the load.
3) For the whole operation, I've found that for me, what works best is as follows:
a) put in clothes as above
b) add about a tablespoon or two of wash powder
c) fill with water
d) use plunger action, using two hands — with one you'll tire out really quickly — for up to about five minutes
e) take out and wring the items individually — as mentioned above, hand wringing seems to be the most effective short of having a proper (old style) wringer or a restaurant-grade vegetable spinner (which I wouldn't seriously consider buying since I know its cost would defeat the project's "on a budget" and "let's keep this simple" themes)
f) hang the laundry on a clothesline or other similar support reasonably securely — outside! Otherwise, you'll have to go through a rinse cycle or two by repeating a) to e)
g) thoroughly rinse all the items with a garden hose, and allow to drip dry. Hand wringing of items at their bottoms will of course significantly reduce drying time. Obviously, if you rinse as in f), (say, if you do everything inside) then don't do this!
Overall, despite its limitations, I like the idea. I'd like to think that it's one of those "why didn't I do this years ago" ideas. I might not have "wasted" money buying as many new socks just for the cottage.
The "but" part is that it is a useful item that definitely has its limits. Operating it does require a certain amount of manual labour, and is really only useful for a portion of items that need to be washed. I was a bit disappointed that after my two weeks of vacation and despite having kept up with just about all the shirts, socks and underwear I'd worn as well as a few hand towels and wash cloths I'd used, I still had about three loads of laundry to do once the bedsheets, pants, large towels and a few other items were taken into account.
Yes, it was fun. Yes, I recommend it.
Happy washing!
UPDATE September, 2014:
I have used the washing machine since during this year's holidays at the cottage and a couple of other times. Having formed some opinions last year about its limits, this year I decided not to depend on it for washing or reducing the washload at the end of my holidays, and, surprise, surprise, I found it to be a wonderful and useful tool.
I used it for the predictable small items such as my socks, some underwear, hand towels and wash cloths, for which it is ideally suited.
But I found something else for which it is suited, to my surprise to boot: Much of the bed sheets for a double bed and the pillow cases. Last year I assumed that such items would be too bulky for the washing machine. This year, mid-vacation they needed to be done. They were easy to wash one sheet at a time plus another time for the pillow cases, and to my surprise they were easy to wash, to the point that I have since washed them again in it, "saving me" from having to bring them home to wash and dry in a standard electric washing machine back home in the city.
So two more points for the washing machine and it having continued to demonstrate its usefulness as well as having redeemed itself a bit: Next time going up to the cottage, I won't have to remake my bed upon arrival, possibly, for all I know, late in the evening and after the proverbial long tiring day at work.