It seems that Tux, the Linux mascot, is now moonlighting for the CIBC, a Canadian bank.
The Canadian Imperial Bank of Commerce, also known as "CIBC", is currently running a campaign surrounding its travel rewards programme, with a tagline of "So good even penguins can fly(tm)". There have been some TV commercials with penguin families humorously "talking" about their not always succesful trip planning experiences. All of the penguins in the live TV commercials appear to be close approximations of some variety of real penguins, and of course, the digital renderings / puppets / whatever are digitally or otherwise manipulated in an anthropomorphic fashion with human voice-overs in order to appear to be like regular people.
On the CIBC website, the cartoonish penguins look sufficiently different from the "live penguins" on TV and look like they're straight out of a Saturday morning cartoon. While I suppose that the "live" penguins and the cartoons may look vaguely similar, it's in the fashion that the Flinstones or the Jetsons look like you and me.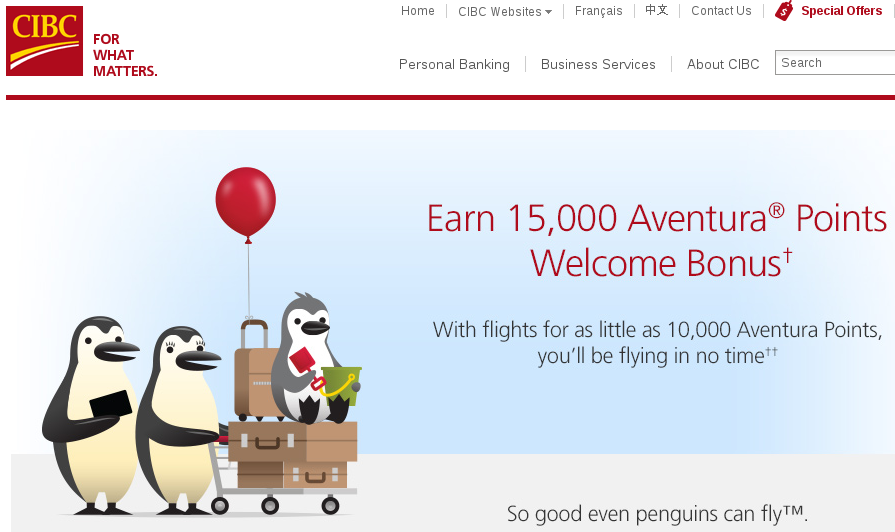 But wait, folks, as the screenshot above shows, the cartoon penguins don't resemble our hero.
So, while I was passing through the Vancouver, BC (Canada) airport, one of the kiosks trying to get people to sign up for a credit card (obviously, the CIBC) was giving out little penguin keychains as part of the promotion. Even from a bit of a distance, I could clearly tell that they were Tux the Linux mascot, albeit with a CIBC logo and the travel rewards programme logo on its belly. I got up the nerve to go to the counter and say that I wasn't interested in the sales pitch, but that I just wished to look at the keychains since they'd attracted my attention. Immediately the lady gave me one and let me go on my merry way, hoping that the keychain would garner some of the marketing attention it was designed for. How little the nice lady knew. 🙂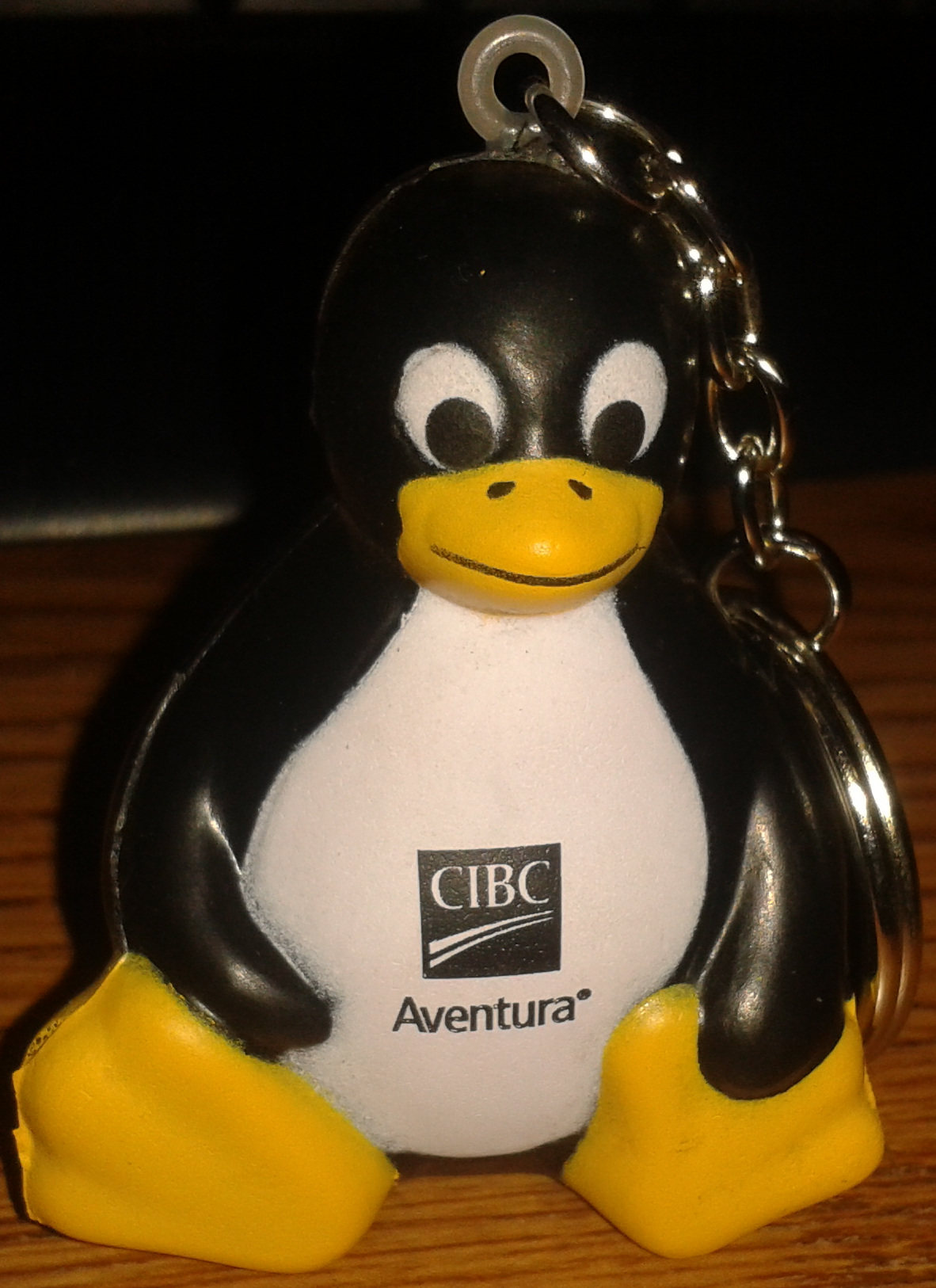 Once at home, I of course checked Larry Ewing's website. I figured that there must be some kind of copyright or license infringement. However, according to Larry Ewing's page titled Linux 2.0 Penguins at http://www.isc.tamu.edu/~lewing/linux/ , it says "Permission to use and/or modify this image is granted provided you acknowledge me lewing@isc.tamu.edu and The GIMP if someone asks."

So: At first glance it seems that, depending on how you interpret Mr. Ewing's licensing condition(s), anyone can use the image for any purpose, and unless someone asks, you don't need to credit anyone or anything or put a copyright notice or "used with permission" or whatever. Unless he's saying "acknowledge me always, but only bother acknowledging The GIMP if someone asks."
So, as I said, it seems that Tux is moonlighting.