Over the past few weeks, I've learned two more recipes — or three, given that one is represented by two recipes of the same thing — to add to my repertoire of cooking skills.
My mom loves bran muffins, and has a bit of a penchant for crisped rice and marshmallow treats. I've known these things for years, but over the past few weeks an imp pushed me over the edge to learn how to make them for her.
I like both, but previously never really had a personal grand desire to learn how to make either, even despite my love of a family friend's ambrosia-worthy banana bran muffins, which I used to occasionally ask her to make for me in my younger years.
The first thing I did was look on the internet for recipes on how to make both, a trivial task. Here are the recipes I found for bran muffins (here's my archive) (here's my recipe based on it) and for crisped rice treats (here's my archive, and here's my recipe based on it). (Interestingly, the Canadian website for Rice Krispies lists a slightly higher ratio of marshmallows than the recipe on the US website, and also calls for vanilla extract!)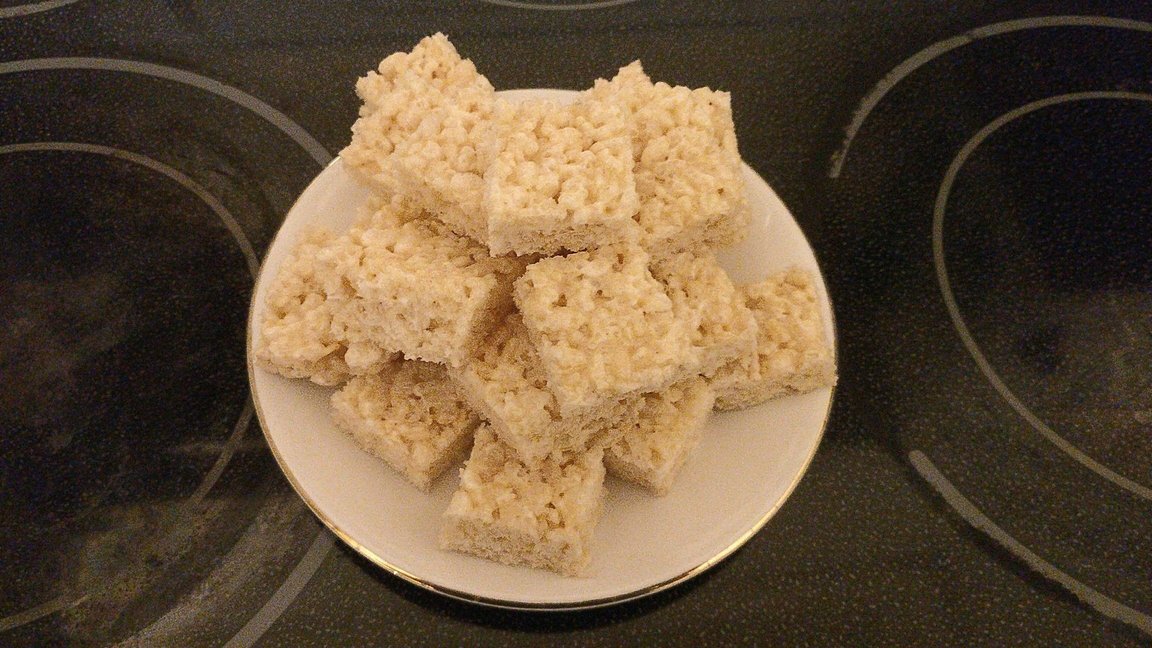 The crispy rice treats were almost as trivially easy to make as it was to find a recipe for them. I bought the ingredients, and within a couple of days made two batches, being able to serve one batch to a willing and hungry group. I found that indeed the melting marshmallows can burn easily in the pan if you're not paying attention.
Mom got her supply a few days later, and happily began munching on them.
For the bran muffins, I looked around the kitchen, and to my great pleasure, I happened to have all the ingredients called for in the recipe I'd found on the internet (here's my archive) (here's my recipe based on it).
I proceeded to make the muffins, and was surprised at how easy it was to make picture perfect muffins. Despite considering myself a competent home cook, I expected it to be a bit more of a challenge. Instead, the recipe was easy to follow; given the attribution, while I am sure that it was "somebody's recipe", it came across as having no doubt been fastidiously reviewed, tested, tweaked, and re-written by the website's editorial staff.
They turned out great, and of course I tasted them in advance. The real test was when I presented them to my mom. She liked them a lot, and ended up eating all of the bran muffins using the internet recipe (here's my version), two at a time.
She did, however, ask me to make some bran muffins with molasses, and told me where to find her old recipes.
The old molasses I had had begun to solidify with age, but could be liquefied in a microwave oven; however, it re-solidified and created hard little balls once mixed with the cooler oil and sugar. An electric beater could not break them up; I baked the muffins, and they had globs of molasses at their bottoms.
The other night, I again made bran muffins, this time one batch of each recipe. In the picture below, my mom's recipe is on the left, and the internet recipe is on the right. Yes, by the time I'd taken the picture, I had already eaten one from the batch on the left. It was yummy!
When I used the same container of molasses, I reheated it in a microwave oven several times, including after mixing it with the oil and sugar, but before adding the eggs. It worked, and I managed to keep the molasses sufficiently liquid when I mixed in the eggs, and then the rest of the ingredients.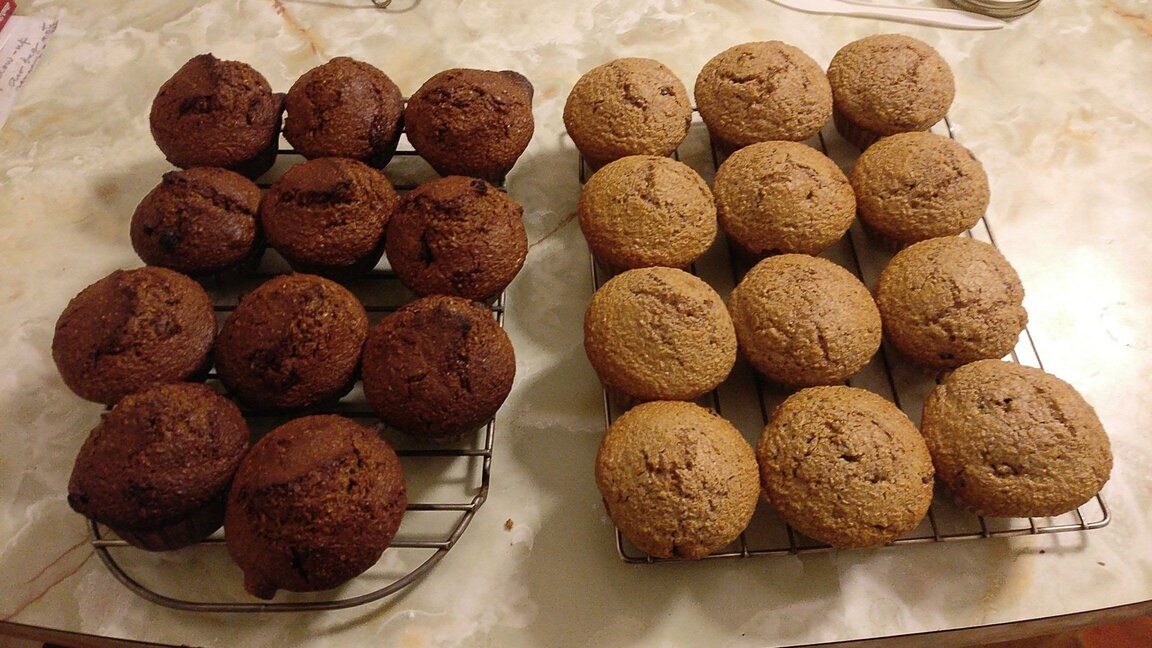 After the above photo was taken, I did a taste test of the internet bran muffins (here's my archive) (here's my version). Comparing the two, each is distinct from the other — molasses comes through very clearly in my mom's recipe — but beyond that, they are also very similar.
The two recipes are in fact very close: One has molasses, the other doesn't, one has two eggs instead of one, but a bit less oil. This resulted in samples from each recipe tasting very much like bran muffins and somewhat similarly, although the molasses in my mom's recipe added a new flavour profile, while the extra egg added a certain firmer cake like texture. The rest of the ingredients and proportions between the two recipes are virtually identical.
Now I'm waiting to bring the two batches to my mom to have another side by side taste test. 🙂
20191030 Update: I brought the two kinds to my mom, and she confirmed what she'd whispered weeks before: The Internet Recipe wins the challenge!