Halloween Candy Delivery System
2020 for Halloween was slightly different, and a lot of the same, for me.
Given "the new normal" brought about contactless and distanced interactions, I had to rethink what I usually do for Halloween.
Normally, I set up a marquee on my front lawn, perhaps dress up a bit in (usually) a very simplistic Elvis costume, and give away candies to the ghosties and ghoulies in the usual way, while (badly) belting out a few Elvis tunes, and throwing in a few bellows of "Happy Halloween!"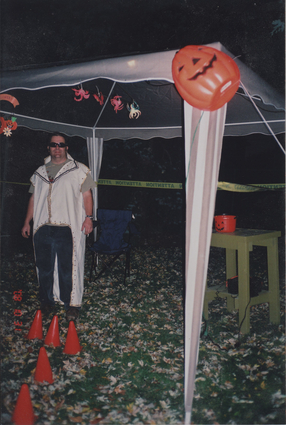 Over the years, I added a coffee urn to serve coffee to parents, cookies, juice boxes, and bags of chips, all on a side table, in addition to the candies I would hand out.
This year, there was some uncertainty as to whether Halloween would be allowed at all, but ultimately, where I live, the provincial authorities decided that Halloween was an important holiday for the children to participate in. Halloween activities for adults remained cancelled. This was great for me, since I prefer the street festival vibe of serving the ghosties and ghoulies over costume parties for adults.
However, this also meant that for me, there could be no serving of coffee, cookies, extra snacks, or juice boxes. Of course, contactless and distanced interactions were to be observed, such as placing a table at the end of your driveway, with the candies in individual bags for people to serve themselves. I found this last suggestion to be decidedly unsatisfactory.
I thought about a tube delivery system, the topic of which was being discussed on the radio, while televised newscasts showed people demonstrating compressed air powered delivery systems. I chose something far more simple: A two inch tube, about ten feet long, and set up on an angle off of a step ladder.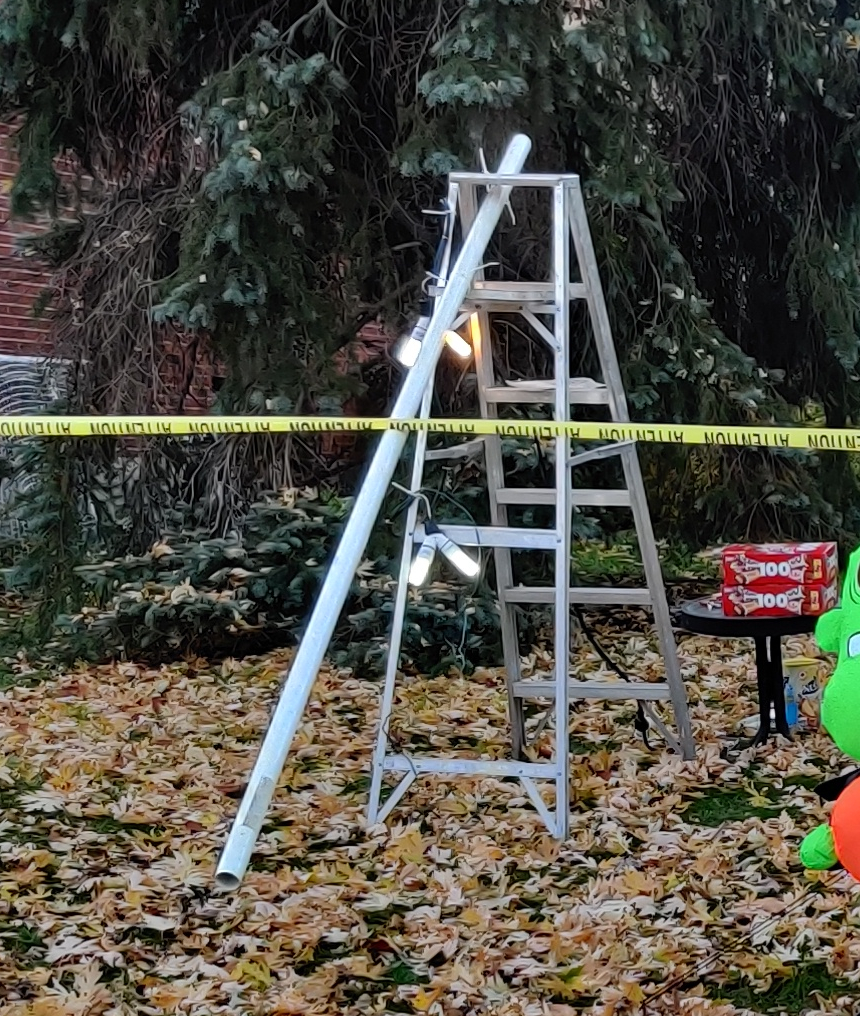 Operation was very low tech: I would be behind the ladder at the high end, while the ghosties and ghoulies would crouch down and place their bag or bucket at the bottom end of the tube, also on the other side of a cordoned off area. I would push three individually wrapped candies per child down the tube, one candy at a time, with a bit of flourish, calling out "One! Two! THREE!!!!!
And, if the candy didn't make it down all the way, I would tip the ladder a bit to make sure that the candies would come out the other end.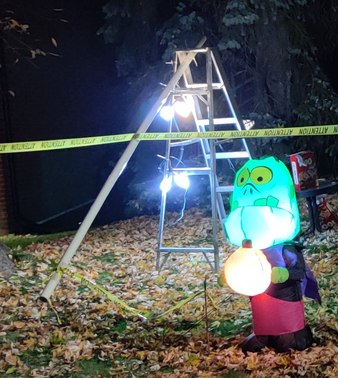 The delivery system seemed popular, and adults thought it was cool enough. A lot, although not all, of the ghosties and ghoulies understood right away what to do, while others needed prompting from either the adults with them, or from me.
Inflatable Lawn Ornaments
I have also been taking a liking to the inflatable lawn ornaments that over the past few years have come out especially around Halloween, as well as around Christmas. While arguably a bit of a luxury item, I am cheap, so whenever I buy a new addition, I only buy the least expensive smallest units, sometimes on sale a day or two AFTER Halloween; I also don't buy the (somewhat wildly) more expensive units which are licensed designs of movie or TV characters. (I am also somewhat concerned that at some point sufficiently far into the future when I still want to use them, that the premium paid will be lost on an icon whose heyday and easy recognition are long past.)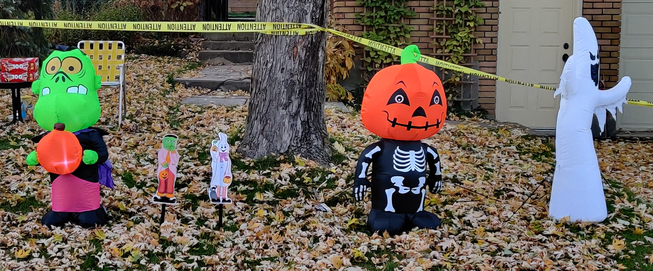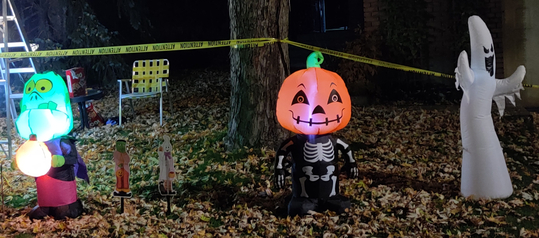 I purchased the ghost (on the right) a few years ago, and this year I added the green vampire monster, and the pumpkin head skeleton.
Final Count
Given that I wasn't sure how many children would come, or even whether there would be any at all, I had a decent turnout. My better years have brought out almost 90 children. How many ghosties and ghoulies did I give out candies to this year? At three candies per child most of the time, and 200 candies purchased, with only nine pieces left over at the end, I estimate that I served about 60 children.
Now that Halloween 2020 has come and gone … it's time for Christmas!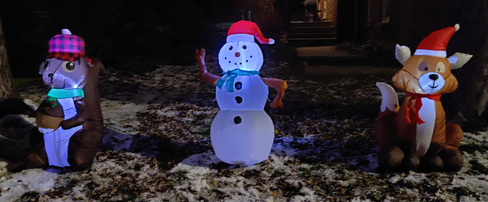 Now that Christmas is on its way, today I felt that it was time to set up my Christmas-themed inflatables. In fact, while it's only now the beginning of the fourth week of November and Christmas is still a month away, I'm actually a bit tardy — off the top of my head, I can think of at least five other houses on my block who have already set up Christmas lights and inflatables!